Tiles for living rooms are enjoying increasing popularity.
No wonder, because living room tiles combine individual design with long-lasting functionality.

At Mosafil you will find a large selection of living room tiles in different sizes, shapes and designs.
We have current trends such as tiles with a wood look in our range as well as natural stone and porcelain stoneware with different surfaces and colors in sizes such as 60x60cm or 30x90cm. At Mosafil you will also find the option
Sample tiles
, which we will be happy to send you by post. So you can choose living room tiles on site in your own rooms and with the existing lighting conditions in peace. Living room tiles are a popular building material both as wall decoration and / or as flooring. In particular,
floor tiles in the living room
are suitable for floor heating due to their better thermal conductivity and are easier to maintain than parquet.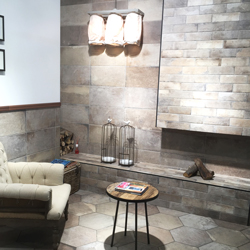 Living room tiles
Living room tiles
With
floor tiles
you can give your living room a modern design and focus on easy cleaning and floor care. In contrast to wooden floors, tiles offer numerous advantages and are more stable, sustainable and resilient. For example, if a drink falls on the floor tiles, you can simply wipe up the damage in the living room and do not have to worry about the tiles themselves being damaged in the process. Due to the variety of materials and different surfaces of floor tiles, you always have the option of creating a focused wood look not with a wooden floor, but with tiles. But stone floors made of marble or granite also have their charm and, as floor tiles in the living room, give a very elegant look with a touch of luxury. While tiles offered little leeway in design in the past and were therefore rarely used in the living room, the variety of designs has increased and you can lay floor tiles in the living room without compromising the look you want. Due to the optimal conductive properties, floor tiles are suitable in combination with underfloor heating and can be laid over the heating wires.
The tiles warm up quickly and ensure a pleasant temperature in the living room,
as well as warm feet, through which you maintain your health and explain yourself much less than when walking on a cold floor. The main focus in your decision for floor tiles in the living room is the design. You can choose tiles in a light and dark design, with a grained look or in a wood look, and thus always differentiate between a stone or wood look for floor tiles. Compared to the real parquet or wooden floor, as well as compared to laminate, tiles offer much better properties in the living room and can withstand the daily high stress and strain.
With all tiles it is important
that you decide to have the floor tiles laid by a specialist and thus ensure that the floor tiles are even. A professional tiler is your contact for a modern and practical floor in the living room so that your furniture in the living room can be placed straight and without tilting on the floor tiles, the joints correspond to your aesthetic perception and the tiles themselves leave nothing to be desired. You will find floor tiles for every taste and you can order the various tiles cheaply and easily online. Especially in a rustic, rural or luxurious interior in the
living room
,
floor tiles
are a real insider tip with an incomparable effect. You can set color accents between the individual tiles by accessing an alternative color of the grout when grouting the floor tiles in the living room and generating a contrast to the tiles. With a special cutting device for tiles, the division of larger floor tiles is possible, which allows you to lay them right up to the wall and completely cover your living room with floor tiles.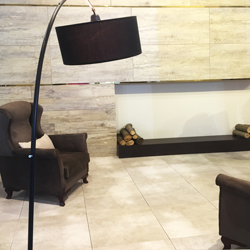 Living room tiles
Tiles are particularly suitable for keeping animals, but also in households with small children.
Wherever something spills over the floor tiles and endangers your ambience in the living room, you will be won over by a floor laid out with tiles. Everything is gone with one swipe is not just an advertising slogan, it also applies to a large extent to floor design with tiles. Your living room will by no means appear less cozy and warm, but appear in a noble design through the floor tiles and show you enormous advantages in use and cleaning. Let the specialists lay the tiles and choose the floor tiles that are ideal for your living room and match the furnishings in the living room. Whether you tend towards wood optics or natural stone for tiles for the floor in the living room, or tiles in a design based on natural stone, has no influence on the positive properties of the floor tiles in the living room. You will find various attractively designed floor tiles for every requirement.