Living space tiles
Hardly any covering for walls and floors offers more scope for the implementation of creative ideas than high-quality living space tiles. They are available in a variety of designs and can reproduce the look of fine natural stones, terracotta or attractive woods. Floor tiles are hard, indestructible and easy to care for, as are wall tiles. Living space tiles can also be used as mosaic tiles and be the ideal solution in every room. They can be combined and are available in countless formats and colors. Living space tiles create a cozy atmosphere in your home.
Living room tiles made of natural stone
Living space tiles are available, for example, made of natural stone. As floor tiles, they are at your feet, while wall tiles create a harmonious ambience. Modern living space tiles made of natural stone have solid-colored structures with natural grains or individual grains. Mosaic tiles made of natural stones also give an impressive picture. Basalt floor tiles are available in many colors and match the classic living style. Wall tiles made of slate in black or anthracite emphasize your urban approach to life.
Wall tiles and floor tiles in a wood look
Due to modern manufacturing processes, the surface structures of living room tiles can have the structure and feel of real wood. Almost all living ideas can be realized with these living space tiles. Floor tiles and wall tiles can shine in a rosewood look or reproduce warm surface images. With mosaic tiles you give the look a unique touch. Large formats, natural stone optics or structured surfaces are possible with living room tiles. In the living room in particular, floor tiles and wall tiles with a natural stone look create a homely atmosphere that has a positive effect on the feeling of space.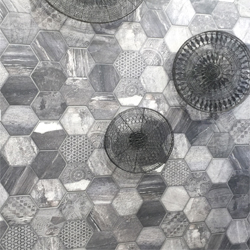 Living area tiles
Living space tiles - what are they suitable for?
Parquet and Co. are not suitable as flooring everywhere. In this case, living room tiles and mosaic tiles are the right choice, because they are undemanding, but they beautify every room. Living space tiles are available in many colors and shapes. Their format can range from small mosaic tiles to slim horizontal formats to large patterns. The variety of tiles means that you can equip the entire apartment or house with you. Open kitchens, bedrooms, entrance areas or a consistent floor design throughout the house are not uncommon. Mosaic tiles, for example, have a particularly charming and inviting look. Like no other material, living space tiles enable a uniform and attractive floor and wall covering to be built.
Diverse design options for inside and outside
Large-format wall tiles allow a very homogeneous design of the surfaces in the interior and exterior. They convey a generous width and, if desired, can also be provided with a discreet joint pattern so that they convey a calm atmosphere. Rectangular wall tiles, also known as transom formats, are also becoming increasingly popular because they provide dynamism and clarity in your own four walls. Many new laying patterns ensure that the apartment can be designed in a varied way and appears friendlier and more inviting. Extremes are very popular with such tiles. They are either particularly large and slim or, on the other hand, particularly small. Landscape formats are also one of the techniques that many people prefer. These can be laid vertically or horizontally and change the proportions of the room. A low ceiling, for example, looks higher with vertically laid tiles.