Terracotta tiles - Mediterranean ambience in warm earth colors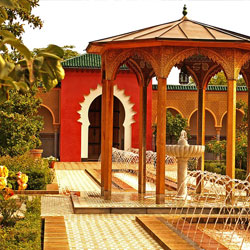 Terracotta tiles are unglazed tiles made from a special clay that are obtained in certain regions of Italy. The tiles have a warm reddish-yellow color and exude a Mediterranean flair. Terracotta is generally suitable for wall tiles and floor tiles in the house. For terraces, balconies and other outdoor areas, terracotta processing must be chosen that is less coarse-pored than the usual clay firing. The beautiful tiles not only radiate visual warmth, they are also pleasantly warm to the feet, and are also very durable and easy to care for Mediterranean ambience and nice combinations
Terracotta tiles come in different formats. The warm, earthy color can be perfectly combined with rustic furniture, leather, wicker and rattan furniture and all warm colors. You can also combine terracotta floor tiles in particular with the incorporation of ornamental tiles, mosaic tiles or tiles of a suitable contrasting color. Alternatively, you can also find the mosaic made of terracotta replicas with glazed surface for wall tiles. You can also put together a decorative large-format mosaic from light and darker terracotta floor tiles. An irregular mosaic made of terracotta rubble is also very beautiful. Designing all four walls plus floor in a terracotta color could visually narrow the room. In large rooms, lighter, yellowish wall tiles look very nice with reddish, darker floor tiles. The Mediterranean floor tiles can also be combined well with natural stone tiles other than wall tiles.
Laying terracotta tiles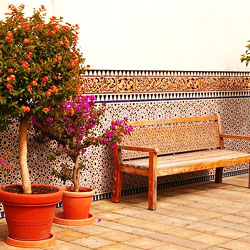 Italian clay tiles are generally laid like other tiles. With handmade terracotta slabs, however, small irregularities are inevitable. Here you have to adapt the individual tiles very precisely. This is also important if you want to lay a pattern with the floor tiles. The unglazed clay tiles can crack at the edges when cut. The wet cutting machine is therefore recommended. For inexperienced do-it-yourselfers, terracotta quarry stone mosaic, which is drawn onto a grid and can be cut without any problems, is very suitable. Terracotta replicas, for example the glazed mosaic, are always common porcelain stoneware that can be processed as usual.