Lappato - high-quality, polished tiles with an impressive look

The name Lappato stands for a special surface treatment of tiles. Unglazed porcelain stoneware is not polished throughout, but only polished with a fine diamond disc. The surfaces are not consistently polished, but only partially polished. This is how Lappato creates typical shades of light and dark.
Unique look - Lappato tiles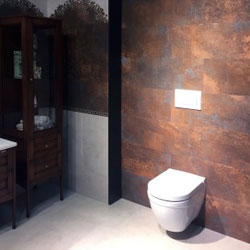 The Lappatto technique in production creates a very special look. While tiles that are polished throughout receive a uniform surface, with Lappato porcelain stoneware, the beautiful shades are created regardless of the color. With porcelain stoneware, an appearance is achieved that comes very close to many natural stones. With the Lappato, the glossy look, very fine, matt relief-like structures and dark to light in different nuances alternate. This results in the most beautiful light reflections even with black or cream-colored tiles. Different appearances arise depending on the size and intensity of how areas were polished and not polished. You can find these tiles in the look of bricks, metal, natural stone, wood, concrete or with decorative patterns. This particularly high-quality porcelain stoneware is basically suitable for use as wall and floor tiles.
Decorate rooms with Lappato tiles
Regardless of color and pattern, all Lappato tiles have a special silky shimmer. Tiles that have been polished or partially polished in this way are in great demand, especially for the design of living areas. The choice of colors and patterns is very large. If the tiles are laid on the wall and floor, you can achieve effective contrasts with color combinations. Thanks to the beautiful light effects, even unpatterned, very discreet tiles that have been polished using the Lappato process never appear monotonous, but always create a lively look that deepens every color impression. Lappato is particularly beautiful when you choose tiles of slightly larger formats, since the different structures are best shown on larger surfaces.
Laying and maintaining polished tiles
Tiles made by Lappato technology are characterized by their high resistance, hardness, resilience and weather resistance. You can therefore also lay these tiles on the terrace. Since these tiles are not completely polished, they generally offer better slip resistance. Nevertheless, you should - especially for wet areas and outdoor areas - pay attention to a classification from R11 for slip resistance. Lappato porcelain stoneware has excellent product characteristics, has proven itself with a high quality and can therefore also be processed very well. In the case of unpatterned Lappato tiles, due to the irregular polishing and color nuances, the waste for edge areas, niches and the like can also be used well. With sample tiles, you have to reckon with correspondingly more waste due to the accuracy of the samples. Glue and grout for porcelain stoneware are used for laying. Impregnation is recommended after installation, but not a must. You should use a suitable special cleaner for thorough cleaning after installation. After that, the Lappato tiles are very easy to care for. But avoid all caustic and harsh cleaning agents. Vacuuming or sweeping are usually sufficient for everyday cleaning. For damp cleaning, you can use clear water, water and a little neutral detergent and other mild detergents. Do not wipe floor tiles too wet, just use a damp cloth or mop for floor cleaning. You will enjoy your Lappato tiles for a very long time with the correct laying and care.